A View to the West 2017
November 1 -15, Open House: November 11, 1-4pm
Scottsdale, Arizona
Press release
Trailside Galleries is pleased to present "A View To The West" a show of all new works by the gallery's roster of western painters and sculptors. Several of the participating artists are scheduled to attend the Open House and reception on Saturday afternoon, November 11 from 1:00 – 4:00 pm. The afternoon show will afford collectors the opportunity to view and purchase from a select body of all new works from many of the gallery's most recognized western representational artists.

For more than 50 years, Trailside Galleries has been committed to preserving and interpreting the heritage of the American West. With more than 25 renown western artists participating in the show, the event brings together an array of creative styles and themes inspired by the American West. Whether expressing the landscapes, wildlife, cultures or peoples of the west, the artists tell a vivid and colorful story, both historic and contemporary, through the medium of representational drawing, painting and sculpture.

Participating artists include Bill Anton, Bill Acheff, Thomas Blackshear, Jenness Cortez, John Demott, Patricia Dobson, Deborah Fellows, Fred Fellows, Veryl Goodnight, Z.S. Liang, Dan Mieduch, Brenda Murphy, Bill Nebeker, JoAnn Peralta, Cynthia Rigden, Alfredo Rodriguez, Howard Rogers, Mian Situ, Matt Smith, Curt Walters, Jeremy Winborg, Richard D. Thomas, and Morgan Weistling, among others.

Since 1963, Trailside Galleries of Jackson, Wyoming and Scottsdale, Arizona has been regarded as one of the pre-eminent dealers in American representational art, specializing in a rich and varied collection of works by the leading western, wildlife, figurative, impressionist, and landscape artists in the country. The artist roster includes members of the Cowboy Artists of America, National Academy of Design, Oil Painters of America, Plein-Air Painters of America, Prix De West, Society of Animal Artists, National Sculpture Society and Masters of the American West.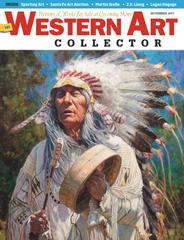 A View to the West Exhibition Featured in Western Art Collector
November 2017
Having spent more than 50 years devoted to preserving and interpreting the American West, Trailside Galleries celebrates that commitment with their new show A View to the West. The exhibition features brand new works from more than 25 Western artists, including Kathleen Dunphy, Marlin Rotach, Mike Desatnick, Robert Duncan and William S. Phillips.